NFT Based Play-to-Earn Puzzle Fantasy Game
Through one-step UI, You can play easily. Need the fast reflexes and commands.
Easy, intuitive game-play
All you need is your fast decision. Consider which heroes will have an advantage in war.
Battles are automatic and are precisely simulated based on joined heroes composition and resource volume.
Fully-NFT
In-game assets, including in-game heroes are minted as tradable NFTs.
These NFTs can be purchased from other users through the marketplace or acquired through an initial public sale.
Play to Earn
As a reward for battle, "HYPE" currency tokens will be provided daily according to your contribution and performance.
You can use "HYPE" to level up your NFT heroes or realize Play-to-Earn returns through the coin exchange.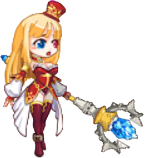 PLAY TO EARN
Manage bomber heroes, explore the world together, defeat monsters and bosses to free kingdoms under attack by monsters, and get tokens.